The Ger­man and French eco­no­mies are clo­sely in­tert­wi­ned. For France, Ger­many is the most im­port­ant tra­ding part­ner, both for the ex­port and for the im­port eco­nomy. France is also one of the most im­port­ant mar­kets for Ger­man ex­ports. France, in turn, is Ger­many's third lar­gest im­por­ter.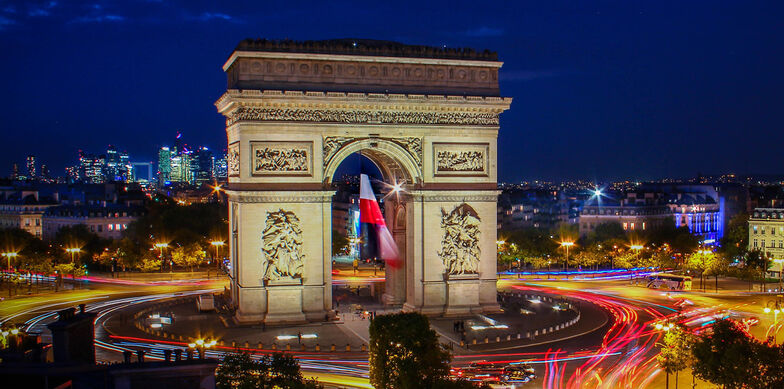 France is con­side­red an open and mo­dern mar­ket with a qua­li­fied work­force. In ad­di­tion, the geo­gra­phi­cal lo­ca­tion of­fers ex­cel­lent ac­cess to the Eu­ro­pean do­mestic mar­ket and is a good star­ting point for doing busi­ness on the Af­ri­can con­ti­nent.
Ger­many, on the other hand, as the stron­gest eco­nomy in Eu­rope, is one of the world's most at­trac­tive busi­ness lo­ca­ti­ons. In­ves­tors are at­trac­ted by the high le­vel of in­no­va­tion in for­ward-loo­king tech­no­lo­gies and ser­vices, as well as the high le­vel of qua­li­fi­ca­ti­ons and the coun­try's good in­fra­struc­ture.
The Eb­ner Stolz French Desk sup­ports Ger­man in­ves­tors who want to gain a foo­thold in France, as well as French com­pa­nies who want to be­come ac­tive in Ger­many. Our bi­lin­gual, mostly tri­lin­gual team not only has the pro­fes­sio­nal com­pe­tence, but also the ne­cessary in­ter­cul­tu­ral com­pe­tence. We know the pe­cu­lia­ri­ties and spe­cial fea­tures of each coun­try and have close con­ta­cts with the aut­ho­ri­ties, eco­no­mic and po­li­ti­cal de­ci­sion-ma­kers in both coun­tries. In Ger­man-French busi­ness tran­sac­tions, we sup­port our cli­ents in all re­le­vant is­sues. For more com­plex is­sues, we con­sult French col­lea­gues from our net­work. You re­ceive all ser­vices from us from a sin­gle source. If ne­cessary, we will take care of the re­qui­red coor­di­na­tion for you sil­ently in the back­ground.
La France et l'Allemagne : le moteur de l'UE
L'Al­lem­agne et la France entre­ti­en­nent d'étroi­tes re­la­ti­ons éco­no­mi­ques de­puis des décen­nies, qui représen­tent en­viron 40 % de la pro­duc­tion éco­no­mi­que de l'UE. Les deux pays sont donc con­sidérés comme moteur de l'es­pace éco­no­mi­que eu­ropéen, tant sur le plan éco­no­mi­que que po­li­ti­que. Le French Desk d'Eb­ner Stolz pro­pose donc d'ac­com­pa­gner les en­tre­pri­ses al­le­man­des et françai­ses au sein de leurs ac­tivités dans les deux pays.
Les éco­no­mies al­le­mande et française sont étroi­te­ment liées. L'Al­lem­agne étant le prin­ci­pal par­ten­aire com­mer­cial de la France, tant dans le do­maine des ex­por­ta­ti­ons que des im­por­ta­ti­ons. La France étant éga­le­ment l'un des marchés les plus conséquents pour les ex­por­ta­ti­ons al­le­man­des, mais aussi le troisième im­por­ta­teur d'Al­lem­agne.
La France est con­sidérée comme un marché ou­vert et mo­derne avec une main-d'œuvre qua­lifiée. En ef­fet, sa si­tua­tion géogra­phi­que offre un ex­cel­lent accès au marché intéri­eur eu­ropéen et con­sti­tue une base précieuse pour faire des af­fai­res avec le con­ti­nent af­ri­cain.
L'Al­lem­agne, de son côté, en tant qu'éco­no­mie prépondérante d'Eu­rope, est l'un des sites éco­no­mi­ques les plus at­trac­tifs au monde. Les in­ves­tis­seurs sont en ef­fet sédu­its par le haut ni­veau d'in­no­va­tion dans les tech­no­lo­gies et dans les ser­vices d'ave­nir, mais aussi par le haut ni­veau de qua­li­fi­ca­tion et les in­fra­struc­tures de qua­lité du pays.
Le French Desk d'Eb­ner Stolz ac­com­pa­gne donc les in­ves­tis­seurs al­le­mands so­uhai­tant s'im­plan­ter en France, ainsi que les en­tre­pri­ses françai­ses so­uhai­tant faire de même en Al­lem­agne. Notre équipe bi­lingue, voire ma­jo­ri­taire­ment tri­lingue, dis­pose non seu­le­ment de la compétence tech­ni­que, mais aussi de la compétence in­ter­cul­tu­relle néces­saire à cela. Nous connais­sons les par­ti­cu­la­rités et spéci­fi­cités de chaque pays et entre­te­nons d'étroits con­ta­cts avec les au­to­rités, les déci­deurs éco­no­mi­ques et po­li­ti­ques des deux pays. Nous som­mes donc en me­sure de vous ac­com­pa­gner dans tou­tes les ques­ti­ons con­cer­nant vos re­la­ti­ons d'af­faire franco-al­le­man­des. Pour les probléma­ti­ques plus com­ple­xes, nous fai­sons ap­pel à des collègues français de notre réseau, vous per­met­tant donc de re­ce­voir tous les ser­vices néces­sai­res à par­tir d'une source uni­que, tout en nous oc­cupant pour vous de la coor­di­na­tion de ces-der­niers en arrière-plan.