We tal­ked about what´s in­clu­ded in this act and what im­pact the mea­su­res have on en­ter­pri­ses in the U.S. and on mul­ti­na­tio­nal groups with sub­si­dia­ries in the U.S. with Mike Smith and Gret­chen Wha­len, both prin­ci­pals of our NE­XIA-part­ner Clif­ton­Lar­so­nAl­len LLP in Char­lotte, U.S.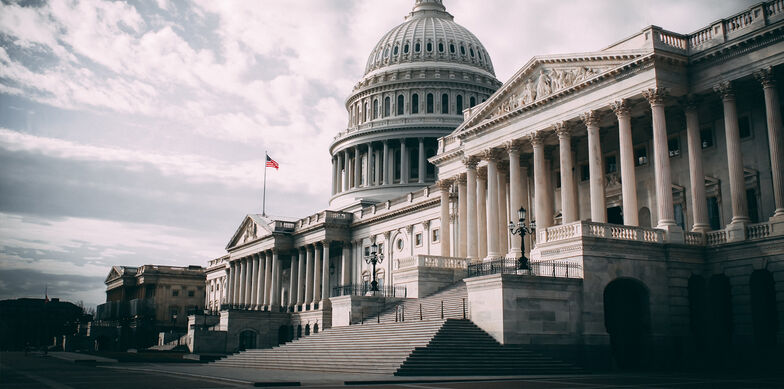 Mr. Smith, could you provide us with a short overview about what is included in the CARES Act?
On March 27, 2020, Pre­si­dent Trump si­gned the Coro­na­vi­rus Aid, Re­lief, and Eco­no­mic Se­cu­rity (CA­RES) Act, the third phase of le­gis­la­tion ai­med at fighting the CO­VID-19 pan­de­mic and mit­iga­ting the re­la­ted eco­no­mic harm for fa­mi­lies, workers, and busi­nes­ses. It is the lar­gest sti­mu­lus pa­ckage in history, with an esti­ma­ted cost of $2.2 tril­lion.

Key as­pects of the CA­RES Act are sum­ma­ri­zed be­low.
The CA­RES Act al­lows for a five-year net ope­ra­ting loss (NOL) car­ry­back for los­ses ge­ne­ra­ted in the 2018, 2019, and 2020.
The CA­RES Act ad­ded a re­fun­da­ble pay­roll tax cre­dit equal to 50% of cer­tain com­pen­sa­tion paid from March 13, 2020, to De­cem­ber 31, 2020.
The CA­RES Act al­lows for 100% bo­nus depre­cia­tion on cer­tain qua­li­fied im­pro­ve­ment pro­perty placed in ser­vice in 2018 and 2019.
The Tax Cuts and Jobs Act of 2017 (TCJA) re­pea­led the cor­po­rate al­ter­na­tive mi­ni­mum tax (AMT) and pro­vi­ded an op­por­tu­nity for cor­po­ra­ti­ons to claim a re­fund of mi­ni­mum tax cre­dit car­ryo­vers du­ring 2018 th­rough 2021. The CA­RES Act ma­kes any re­mai­ning mi­ni­mum tax cre­dit car­ryo­vers fully re­fun­da­ble in 2019.
Li­mi­ta­ti­ons on busi­ness in­te­rest ex­pense de­duc­tions are ea­sed un­der the CA­RES Act.
In­di­vi­du­als are en­tit­led to a "re­co­very rebate" of $1,200 ($2,400 mar­ried filing joint) un­der the CA­RES Act, plus an ad­di­tio­nal $500 per qua­li­fy­ing child, if you are a U.S. re­si­dent and can't be clai­med as a de­pen­dent of ano­ther tax­payer. This rebate is sub­ject to mo­di­fi­ca­tion for tax­pay­ers re­aching cer­tain in­come le­vels.
Un­der cer­tain cir­cum­stan­ces, the CA­RES Act wai­ves the 10% pe­nalty on an early wi­th­dra­wal from an in­di­vi­dual re­ti­re­ment ac­count for up to $100,000 of dis­tri­bu­ti­ons for coro­na­vi­rus-re­la­ted pur­po­ses made on or af­ter Ja­nu­ary 1, 2020.
For ad­di­tio­nal in­for­ma­tion, please read CLA's ar­ti­cle.
Are the temporary rules surrounding net operating loss carrybacks useful to support companies in economically rough times?
The an­swer is a re­soun­ding "Yes"!

If an in­di­vi­dual or Sub­ch­ap­ter C cor­po­ra­tion ge­ne­ra­ted a net tax loss du­ring 2018, 2019, or 2020, a CA­RES Act pro­vi­sion al­lows such tax­pay­ers to carry the loss back to off­set ta­xable in­come du­ring the pre­vious five tax years. This would ge­ne­rate a re­fund of ta­xes paid in ear­lier years. In many ca­ses, the IRS will pay those re­funds wi­thin 90 days, pro­vi­ding im­me­diate cash flow be­ne­fits. Al­ter­na­tively, tax­pay­ers can choose to carry the loss for­ward to off­set fu­ture in­come.

It is im­port­ant to note that fe­deral in­come tax ra­tes ge­ne­rally were hig­her be­fore 2018 and, thus, the cash flow va­lue of an NOL car­ry­back is li­kely more va­luable than car­ry­ing for­ward the NOL. Mo­re­over, it is to re­mem­ber that this is a fe­deral in­come tax be­ne­fit and state in­come tax laws ad­opting the CA­RES Act may vary. Last, tax­pay­ers should con­sider ap­proa­ches to ma­xi­mi­zing their 2020 los­ses eli­gi­ble for car­ry­back, such as ac­ce­le­ra­ting equip­ment purcha­ses, wri­ting off un­col­lec­tible re­ceivab­les, dis­po­sing of ob­so­lete in­ven­tory, and si­mi­lar tech­ni­ques.

For ad­di­tio­nal in­for­ma­tion, please read CLA's ar­ti­cle.
You mentioned a lifting of interest expense limitations, for how long and to what degree is this defined in the CARES Act?
The busi­ness in­te­rest li­mi­ta­tion was ad­ded as part of the TCJA and ge­ne­rally li­mits the de­duc­tion for busi­ness in­te­rest ex­pense to the sum of (i) busi­ness in­te­rest in­come, (ii) 30% of ad­jus­ted ta­xable in­come (ATI), and (iii) floor plan fi­nan­cing in­te­rest. Cer­tain small tax­pay­ers are ex­empt from the li­mit.
The CA­RES Act ge­ne­rally in­crea­ses the li­mit to 50% of ad­jus­ted ta­xable in­come (ATI) for 2019 and 2020, po­ten­ti­ally in­cre­asing in­te­rest ex­pense de­duc­tions and re­du­cing ta­xable in­come (or crea­ting a net ope­ra­ting loss which can be car­ried back). Tax­pay­ers can elect to use their 2019 ATI in com­pu­ting the 2020 li­mit, pro­vi­ding re­lief for busi­nes­ses whose in­come de­clines in 2020.
Mrs. Whalen, taking the CARES Act in con­s­i­de­ra­tion, should mul­ti­na­tio­nal com­pa­nies with US sub­si­dia­ries or affi­lia­tes review their trans­fer pri­cing poli­cies and eva­luate oppor­tuni­ties to maxi­mize these tax savings oppor­tuni­ties?

A com­pany's trans­fer pri­cing po­licy should be a li­ving, brea­thing do­cu­ment. Now is an ideal time to re­vi­sit in­ter­com­pany tran­sac­tion pri­cing. As dis­cus­sed above, the CA­RES Act pro­vi­des nu­me­rous tax sa­vings op­por­tu­nities for U.S. cor­po­ra­ti­ons, no­ta­bly the 5-year NOL car­ry­back rule for los­ses in­cur­red in 2018, 2019, or 2020. Con­ceiv­ably, a mul­ti­na­tio­nal cor­po­rate group could enhance the NOL car­ry­back ca­pa­city of its U.S. sub­si­di­ary by in­cre­asing the mark-up char­ged to such sub­si­di­ary for in­ter­com­pany goods and ser­vices. A mul­ti­na­tio­nal group con­tem­pla­ting such a stra­tegy should con­sider
the ex­tent to which such mark-up is sup­por­ted by a for­mal trans­fer pri­cing bench­mar­king ana­ly­sis;
whe­ther the cash tax sa­vings of the U.S. fe­deral in­come tax re­fund is grea­ter than the ad­di­tio­nal in­come ta­xes paid in the home coun­try on the cor­re­spon­ding in­come in­clu­sion; and
the pro­fes­sio­nal fees ne­cessary to ef­fec­tuate a re­fund claim.
CLA's tax pro­fes­sio­nals wel­come the chance to as­sist with a re­fund claim as­sess­ment and en­cou­ra­ges tax­pay­ers to be­gin the eva­lua­tion pro­cess by the end of the 3rd quar­ter to al­low time for pro­per ana­ly­sis, do­cu­men­ta­tion and exe­cu­tion.

From a worldwide perspective, will the economic downturn caused by the COVID-19 pandemic hinder the ability of state governments to collect taxes? How will they deal with budget shortfalls as already occurred in the last months?
Most U.S. sta­tes have ex­pe­ri­en­ced a si­gni­fi­cant de­crease in tax col­lec­tions with the im­pact of tran­sac­tion-ba­sed ta­xes, such as sa­les tax, felt al­most im­me­dia­tely as monthly re­por­ting is re­qui­red in many ca­ses. There is also an ex­pec­ta­tion that in­come-ba­sed tax re­ve­nue will de­crease si­gni­fi­cantly, alt­hough this does not oc­cur in real time as busi­nes­ses and in­di­vi­du­als make esti­ma­ted tax pay­ments quart­erly and file their tax re­turns an­nually.
Un­like the United Sta­tes fe­deral go­vern­ment, which has the ca­pa­city to bor­row and create de­fi­cits, the in­di­vi­dual sta­tes and lo­cal go­vern­ments ge­ne­rally must ba­lance their bud­gets each year. Thus, gi­ven sta­tes and ci­ties have ex­pe­ri­en­ced a de­cline in tax re­ve­nue, they have to eit­her in­crease tax col­lec­tions – which they can do by enhan­ced en­force­ment of exis­ting laws or by ad­ding new laws to in­crease the tax ra­tes – or broa­den the tax base. There has not been much ac­tivity yet, but the ex­pec­ta­tion is that we will see hig­her le­vels of ex­ami­na­tion ac­tivity, such as what tax­pay­ers ex­pe­ri­en­ced in 2008 and 2009. Ad­di­tio­nally, many sta­tes seem to be con­tem­pla­ting broa­de­ning their sa­les tax base. Each state has its own ru­les for iden­ti­fy­ing tran­sac­tions sub­ject to sa­les tax. The ru­les vary wi­dely from state to state. For ex­am­ple, some sta­tes as­sess sa­les tax on soft­ware and elec­tro­nic goods and ser­vices while others do not.
In 2018 the Wayfair case decided by the U.S. Supreme Court outlined an economic nexus concept which stipulates that internet retailers without property nor employees in South Dakota are liable for sales tax in this state. Does this concept provide states with a useful tool for increasing tax collections? If so, how?
Ab­so­lu­tely. In the wake of Way­fair, many sta­tes pas­sed laws that busi­nes­ses were re­qui­red to be­gin col­lec­ting sa­les tax once they re­ach a cer­tain th­res­hold in sa­les and tran­sac­tions in the state – of­ten $100,000 USD or 200 tran­sac­tions. These laws have had va­ry­ing ef­fec­tive dates, ty­pi­cally so­me­time bet­ween the se­cond half of 2018 and early 2020. Cur­rently only two sta­tes that im­pose a sa­les tax (only 45 sta­tes do) do not have an eco­no­mic ne­xus th­res­hold – Flo­rida and Mis­souri. Even though these laws made news th­roug­hout the US, many busi­nes­ses did not ti­mely com­ply. Thus, sta­tes may find that they have a re­ady source of tax re­ve­nue wi­thin the com­pa­nies that de­layed com­ply­ing or have not yet com­plied. There are a va­riety of ways that sta­tes can iden­tify non-fi­lers in­clu­ding matching up busi­nes­ses that file other tax ty­pes, iden­ti­fy­ing ven­dors sel­ling to in-state busi­nes­ses as they au­dit those in-state busi­nes­ses, re­viewing fi­nan­cial tran­sac­tions that may be sha­red by fi­nan­cial in­sti­tu­ti­ons and th­rough re­viewing con­tents of trucks and ship­ping con­tai­ners en­te­ring the state.
Finally, are there any further tax breaks in the U.S. to be expected in the future to alleviate the economic hardship caused by COVID-19?
Both: As the 2020 Pre­si­den­tial Elec­tion se­ason starts to heat up, it is be­com­ing more li­kely that the White House and Se­nate Re­pu­bli­cans will not re­ach agree­ment with House De­mo­crats on a new round of CO­VID-19 eco­no­mic re­lief.
In re­sponse to this sta­le­mate, Pre­si­dent Trump re­cently is­sued four exe­cu­tive or­ders that
post­po­nes col­lec­tion of fe­deral pay­roll ta­xes on workers ma­king less than $104,000 an­nually for the pe­riod Sep­tem­ber 1, 2020 th­rough De­cem­ber 31, 2020.
wai­ves all in­te­rest due on stu­dent lo­ans held by the fe­deral go­vern­ment th­rough the end of 2020 and post­po­nes prin­ci­pal pay­ments un­til De­cem­ber 31, 2020.
aut­ho­ri­zes the Se­cre­tary of the Tre­asury and the Se­cre­tary of Hou­sing and Ur­ban De­ve­lop­ment to iden­tify ad­di­tio­nal fe­deral funds to pro­vide tem­porary fi­nan­cial as­sis­tance to ren­ters and ho­meow­ners who, as a re­sult of the fi­nan­cial hardships cau­sed by CO­VID-19, are strugg­ling to meet their monthly ren­tal or mort­gage ob­li­ga­ti­ons.
man­da­tes FEMA to ex­tend the lost wa­ges as­sis­tance pro­gram to pro­vide a $400 pay­ment per week, which shall re­flect a $300 Fe­deral contri­bu­tion, to eli­gi­ble clai­mants from the week of un­em­ploy­ment ending Au­gust 1, 2020. A gi­ven state's contri­bu­tion would be $100 per week. The pro­gram ex­ten­sion would run no lon­ger than De­cem­ber 6, 2020.
Now that Pre­si­dent Trump has laun­ched his ope­ning salvo, what does Con­gress have in store for a re­sponse? In the near term, the an­swer is- pro­bably not much. The po­li­ti­cal cli­mate in the United Sta­tes re­mains con­ten­tious (one might say to­xic) and the li­ke­li­hood of new le­gis­la­tion pas­sing du­ring the fall elec­tion cy­cle with a di­vi­ded Con­gress is prac­tically nil. But if we were to wake up to­mor­row in the land of rain­bows and uni­corns and ever­yone got along, here is a glimpse of what House De­mo­crats and Se­nate Re­pu­bli­cans might pass as part of CO­VID-19 re­lief.
As pre­viewed in the Health and Eco­no­mic Re­co­very Om­ni­bus Emer­gency So­lu­ti­ons Act (''HE­ROES Act') pas­sed by the House in May 2020, the De­mo­cra­tic ma­jo­rity rei­te­ra­ted its dis­taste for cor­po­rate wel­fare by pro­po­sing to li­mit car­ry­backs of net ope­ra­ting los­ses in­cur­red in 2019 and 2020 to one year. In con­trast, the CA­RES Act enac­ted ear­lier this year al­lows for a five-year car­ry­back for los­ses in­cur­red in tax years 2018, 2019, and 2020.
In ad­di­tion, the HE­ROES Act reins­ta­tes the $250,000 ($500,000 for joint re­turns) li­mi­ta­tion on ex­cess busi­ness los­ses for pass-th­rough en­ti­ties and sole pro­prietorships re­troac­tive to tax years be­gin­ning af­ter 2017.
The House De­mor­crats' plan would also eli­mi­nate the wildly un­po­pu­lar- at least in high-tax "blue" sta­tes - $10,000 li­mi­ta­tion on the de­duc­tion for (non­busi­ness) state and lo­cal ta­xes that was enac­ted as part of the Tax Cuts and Jobs Act of 2017.
Fur­ther­more, the HE­ROES Act con­ta­ins mo­di­fi­ca­ti­ons to the Em­ployer Re­ten­tion Pay­roll Tax Cre­dit; pro­vi­des for a pay­roll cre­dit for cer­tain fi­xed ex­pen­ses of em­ploy­ers sub­ject to clo­sure by re­ason of CO­VID-19; grants a busi­ness in­ter­rup­tion cre­dit for cer­tain sole self-em­ployed in­di­vi­du­als; and al­lows for pay­roll tax pay­ment de­fer­rals in cer­tain si­tua­ti­ons.
On Mon­day, July 27, 2020, the Re­pu­bli­can-con­trol­led Se­nate un­vei­led the Health, Eco­no­mic, Lia­bi­lity and Schools Act ("HE­ALS Act"). Si­mi­lar to the HE­ROES Act, the HE­ALS Act con­ta­ins pro­vi­si­ons for mo­di­fy­ing the Em­ployer Re­ten­tion Pay­roll Tax Cre­dit as a me­ans to in­cen­ti­vize work­force re­ten­tion.
The Se­nate bill also ex­pands the Work Op­por­tu­nity Tax Cre­dit ("WOTC"). Un­der cur­rent law, the WOTC equals 40% of an eli­gi­ble new em­ployee's first $6,000 in wa­ges. The pro­po­sal would in­crease the cre­dit to 50% of the em­ployee's first $10,000 and ex­pand the ca­te­go­ries of eli­gi­ble em­ployees to in­clude an­yone re­cei­ving un­em­ploy­ment in­surance im­me­dia­tely prior to their hi­ring and be­fore next year.
Mo­re­over, the HE­ALS Act would add a new busi­ness tax cre­dit for qua­li­fied em­ployee pro­tec­tion ex­pen­ses, qua­li­fied work­place re­con­fi­gu­ra­tion ex­pen­ses, and qua­li­fied work­place tech­no­logy ex­pen­ses. The tax cre­dit would equal 50% of the afo­re­men­tio­ned qua­li­fied ex­pen­ses, sub­ject to a cap of equal to $1,000 for each of the first 500 em­ployees, plus $750 for each em­ployee bet­ween 500 and 1,000, plus $500 for each em­ployee that ex­ceeds 1,000. This tax cre­dit is in­ten­ded to in­cen­ti­vize em­ploy­ers to pro­vide CO­VID-19 tes­ting, pro­tec­tive equip­ment, clea­ning supplies, and of­fice mo­di­fi­ca­ti­ons ai­med at de­tec­ting, con­tai­ning, and eli­mi­na­ting coro­na­vi­rus in the work­place.
De­spite dif­fe­ren­ces in the Se­nate and House bills, the idea­list holds out hope that the par­ties will come to­ge­ther to re­con­cile their di­sagree­ments and pass le­gis­la­tion for the good of the Ame­ri­can peo­ple. Yet it is dif­fi­cult to tune out the cy­nic, who re­ci­tes a quote by Pre­si­dent Rea­gan from a ge­ne­ra­tion ago, that "In this pre­sent cri­sis, go­vern­ment is not the so­lu­tion to our pro­blem, go­vern­ment IS the pro­blem." In the end, per­haps, we com­pro­mise by agre­eing that there's al­ways 2021.