Mr. Gerzer, the Charlotte Chamber of Commerce helps German companies set up shop in the United States, specifically in the Charlotte metropolitan area. How can you help?

We can assist with all aspects of setting up shop and growing your business in Charlotte. We can first provide all information about Charlotte as a place to do business: from data and statistics to taxes, costs, employee qualifications and wage costs to information on real estate and lists of various industries, we have all the information needed to evaluate the Charlotte area as a business location. We then organize a visit to Charlotte, with appointments with service providers, other local German companies, and commercial and residential real estate agents. The third step includes assistance with setting up shop and growth, including integration into existing networks. It is all confidential and free of charge.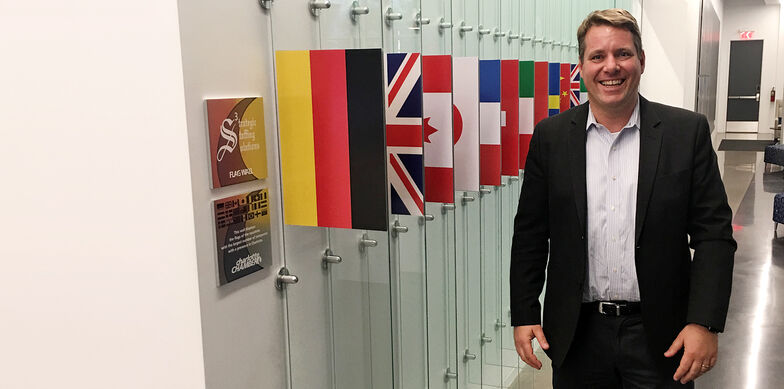 What are the typical issues facing German investors in the United States?
The first questions are usually how to invest in the United States and how much it will cost. The second priority is then issues such as products liability, visa issues, taxes, logistics and employee relocation. But because there is an excellent support network in Charlotte, as in the rest of the United States, these issues can be dealt with relatively quickly so that investors can focus on their main task, which is acquiring new customers.
"America first," economic protectionism, border controls and tax reform - just to name a few of the hot political topics in the United States. How do you think they will affect the investment climate in Charlotte? Has the number of new businesses settling in the region decreased or increased?
Thus far the new administration in the US has not had any effect on the German community or the number of German companies setting up shop in the region. Many of the issues raised by President Trump have either been stopped by the courts or the Congress, or President Trump has changed his mind in the meantime. Examples of this include healthcare reform - stopped by Congress and being renegotiated, the prohibition on visas for seven Muslim countries - stopped by the courts; the wall on the border to Mexico - not funded by the Congress; the dissolution of NAFTA - toned down by President Trump in renegotiations; the dissolution of NATO - a 180 degree turn by President Trump. There are many more examples like these. So far it is nothing more than rhetoric and has had no major effects on German companies in the United States. There will certainly be a tax reform, but it will not be as comprehensive as reported by the media. But this is a positive factor for German investments in the United States, since it will reduce their tax burden.
In what areas are foreign companies in general and German companies in particular now faced by greater challenges than before?
The biggest challenge is probably the lack of predictability. How politics will affect companies in the future and what else will happen are big questions that no one can currently answer.
How can companies prepare for this?
Making plans and doing your homework are key. When you are well prepared, have gathered all necessary information and put together a good team of providers, you should be prepared to master the additional challenges.
In view of these rather unsettled times, how would you advise German companies? Invest now, or wait awhile?
The American market was, is and will be a very large market for German companies. The American system of separation of powers works, and it is important not to pay too much attention to media reports. It is certainly important to remain informed, but the media hype should not have any effect on business interests. Someone who invests in the United States does so because the market or potential market is present, not for political reasons. In any event I would not let a few politicians scare me off, but would instead follow the motto "business is business" and would rely on the assistance of suppliers and business promotion agencies.