Mr. Ger­zer, the Char­lotte Cham­ber of Com­merce helps Ger­man com­pa­nies set up shop in the United Sta­tes, spe­ci­fi­cally in the Char­lotte me­tro­po­li­tan area. How can you help?

We can as­sist with all as­pects of set­ting up shop and gro­wing your busi­ness in Char­lotte. We can first pro­vide all in­for­ma­tion about Char­lotte as a place to do busi­ness: from data and sta­tistics to ta­xes, costs, em­ployee qua­li­fi­ca­ti­ons and wage costs to in­for­ma­tion on real es­tate and lists of va­rious in­dus­tries, we have all the in­for­ma­tion nee­ded to eva­luate the Char­lotte area as a busi­ness lo­ca­tion. We then or­ga­nize a vi­sit to Char­lotte, with ap­point­ments with ser­vice pro­vi­ders, other lo­cal Ger­man com­pa­nies, and com­mer­cial and re­si­den­tial real es­tate agents. The third step in­clu­des as­sis­tance with set­ting up shop and growth, in­clu­ding in­te­gra­tion into exis­ting net­works. It is all con­fi­den­tial and free of charge.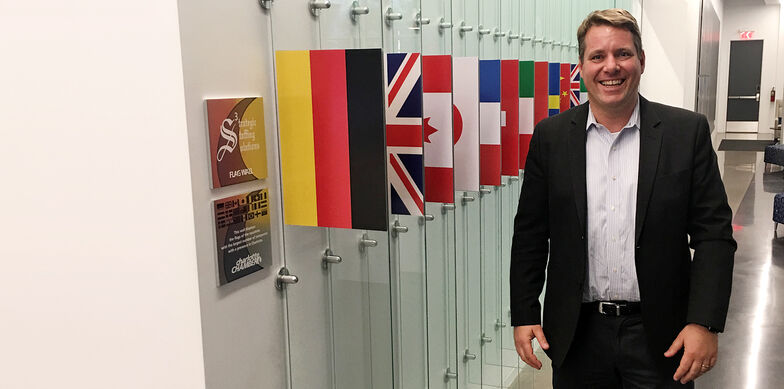 What are the ty­pi­cal is­sues fa­cing Ger­man in­ves­tors in the United Sta­tes?
The first ques­ti­ons are usually how to in­vest in the United Sta­tes and how much it will cost. The se­cond prio­rity is then is­sues such as pro­ducts lia­bi­lity, visa is­sues, ta­xes, lo­gistics and em­ployee re­lo­ca­tion. But be­cause there is an ex­cel­lent sup­port net­work in Char­lotte, as in the rest of the United Sta­tes, these is­sues can be dealt with re­la­tively quickly so that in­ves­tors can fo­cus on their main task, which is ac­qui­ring new cu­st­omers.
"Ame­rica first," eco­no­mic pro­tec­tio­nism, bor­der con­trols and tax re­form - just to name a few of the hot po­li­ti­cal to­pics in the United Sta­tes. How do you think they will af­fect the in­vest­ment cli­mate in Char­lotte? Has the num­ber of new busi­nes­ses sett­ling in the re­gion de­crea­sed or in­crea­sed?
Thus far the new ad­mi­nis­tra­tion in the US has not had any ef­fect on the Ger­man com­mu­nity or the num­ber of Ger­man com­pa­nies set­ting up shop in the re­gion. Many of the is­sues rai­sed by Pre­si­dent Trump have eit­her been stop­ped by the courts or the Con­gress, or Pre­si­dent Trump has chan­ged his mind in the me­an­time. Ex­am­ples of this in­clude health­care re­form - stop­ped by Con­gress and being re­ne­go­tia­ted, the pro­hi­bi­tion on vi­sas for se­ven Mus­lim coun­tries - stop­ped by the courts; the wall on the bor­der to Me­xico - not fun­ded by the Con­gress; the dis­so­lu­tion of NAFTA - toned down by Pre­si­dent Trump in re­ne­go­tia­ti­ons; the dis­so­lu­tion of NATO - a 180 de­gree turn by Pre­si­dent Trump. There are many more ex­am­ples like these. So far it is not­hing more than rhe­to­ric and has had no ma­jor ef­fects on Ger­man com­pa­nies in the United Sta­tes. There will cer­tainly be a tax re­form, but it will not be as com­pre­hen­sive as re­por­ted by the me­dia. But this is a po­si­tive fac­tor for Ger­man in­vest­ments in the United Sta­tes, since it will re­duce their tax bur­den.
In what areas are for­eign com­pa­nies in ge­ne­ral and Ger­man com­pa­nies in par­ti­cu­lar now faced by grea­ter chal­len­ges than be­fore?
The big­gest chal­lenge is pro­bably the lack of pre­dic­ta­bi­lity. How po­li­tics will af­fect com­pa­nies in the fu­ture and what else will hap­pen are big ques­ti­ons that no one can cur­rently an­swer.
How can com­pa­nies pre­pare for this?
Ma­king plans and doing your home­work are key. When you are well pre­pa­red, have gathe­red all ne­cessary in­for­ma­tion and put to­ge­ther a good team of pro­vi­ders, you should be pre­pa­red to mas­ter the ad­di­tio­nal chal­len­ges.
In view of these ra­ther un­sett­led ti­mes, how would you ad­vise Ger­man com­pa­nies? In­vest now, or wait awhile?
The Ame­ri­can mar­ket was, is and will be a very large mar­ket for Ger­man com­pa­nies. The Ame­ri­can sys­tem of se­pa­ra­tion of powers works, and it is im­port­ant not to pay too much at­ten­tion to me­dia re­ports. It is cer­tainly im­port­ant to re­main in­for­med, but the me­dia hype should not have any ef­fect on busi­ness in­te­rests. So­meone who in­vests in the United Sta­tes does so be­cause the mar­ket or po­ten­tial mar­ket is pre­sent, not for po­li­ti­cal re­asons. In any event I would not let a few po­li­ti­ci­ans scare me off, but would in­stead fol­low the motto "busi­ness is busi­ness" and would rely on the as­sis­tance of suppliers and busi­ness pro­mo­tion agen­cies.